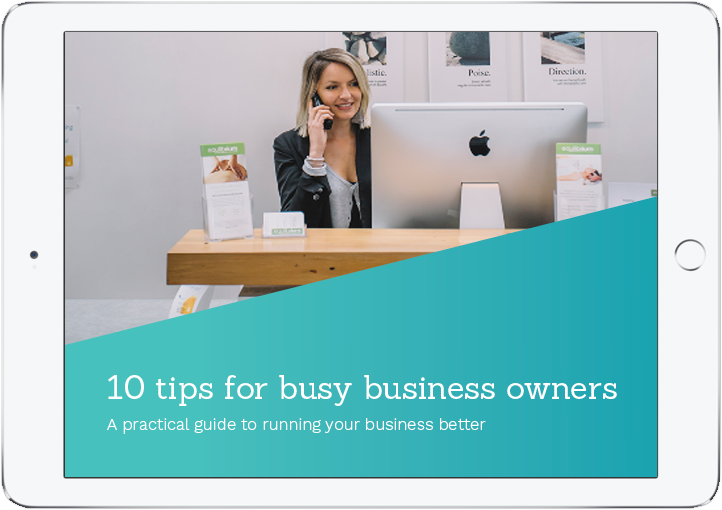 For a busy business owner it's easy to find yourself constantly head down working 'in' the business, not 'on' the business. There's never enough time to do everything you need to do. Sound familiar? We get it.
Whether it's getting caught up in mundane business tasks, grappling with cash flow, sourcing funds to invest in the business or understanding a baffling array of new tech, the stress of keeping your head above water can start to affect other areas of your life.
If you're looking for practical business advice but don't know where to start, our eBook 10 tips for busy business owners – A practical guide to running your business better provides a guide to running your business in better ways.We've written it for busy New Zealand business owners like you who are driven to succeed and looking for solid, trustworthy advice and pragmatic and useful support that can help you make a change right now.
At RightWay we base our approach and advice on some core principles that we believe are the foundation of any successful business.
Set goals and have a plan
To make sure that your business performs, you've got to have a plan. It gives you and everyone involved in the business an understanding of the direction it's heading.
By setting clear goals, knowing how you'll measure your success, and focusing on the right metrics, you can reduce wasted time and focus on what is really important to your business and you personally. Because at RightWay we know that your personal goals and freedom are as important as your business aspirations - in fact your personal goals are probably why you got into business in the first place.
Take control of your cash flow
The number one thing that our customers say keeps them awake at night is cash flow. Or, more specifically, lack of cash flow.
It's important to have a forecast in place for ebbs and flows in the short-term and the long-term. By understanding your cash flow situation you can start to gain control, and have confidence knowing who you have to pay and who is going to pay you.
Best of all, some simple additions to your invoicing processes can help get you on the right track straight away.
Invest in technology to help your time management
Why waste your time on administration and the daily-grind, when there are a growing number of innovative apps, tools, and cloud solutions that can make the load easier. As well as freeing up time to focus on what really matters, you'll be pushing your business forward into.
Technologies such as Xero's accountancy software can streamline processes while providing greater insight into your performance through accurate, real-time data, reporting, and dashboards. Let technology help you measure your progress toward business goals so you can focus on driving performance.
Get strategic business advice
A modern-day Accountant should be doing more than just looking at the books and preparing your tax. They should be your sounding board - providing insights, advice, and a helping you develop a plan of attack. Most importantly, they should be a third-party outside of your business, who can offer unbiased support and a benchmark of how you are performing within the industry.
Who do you turn to for advice about your business? If you're without a business coach or advisor who you trust, we can help.
Want to find out more about the foundations for running a successful business?
Our eBook is designed to help you build a well-run, efficient business that allows you to work smarter (rather than harder) and focus your time on the really important things in life.
More than anything, we hope our advice is a game-changer for you and your business and that our 10 tips become the difference between just getting by, or achieving your goals.
To learn more about how to run your business in better ways, download our ebook: 10 tips for busy business owners – A practical guide to running your business better