The results are in and it is clear the accounting profession is both embracing change internally and becoming a driver of change in New Zealand businesses.
A Sunday Star-Times survey of chartered accounting firms revealed not only the top firms by revenue and growth (see table), but also the drivers of that growth. The results paint a picture of a profession rising up the value chain to become trusted partners, helping to guide Kiwi businesses towards success.
It's all based around a shift towards strategic advice on top of traditional compliance activities such as financial and tax reporting. Eighty five per cent of firms said their growth over the last year came from advisory services compared with 33.3 per cent from compliance and 27.3 per cent from assurance services.


Who's who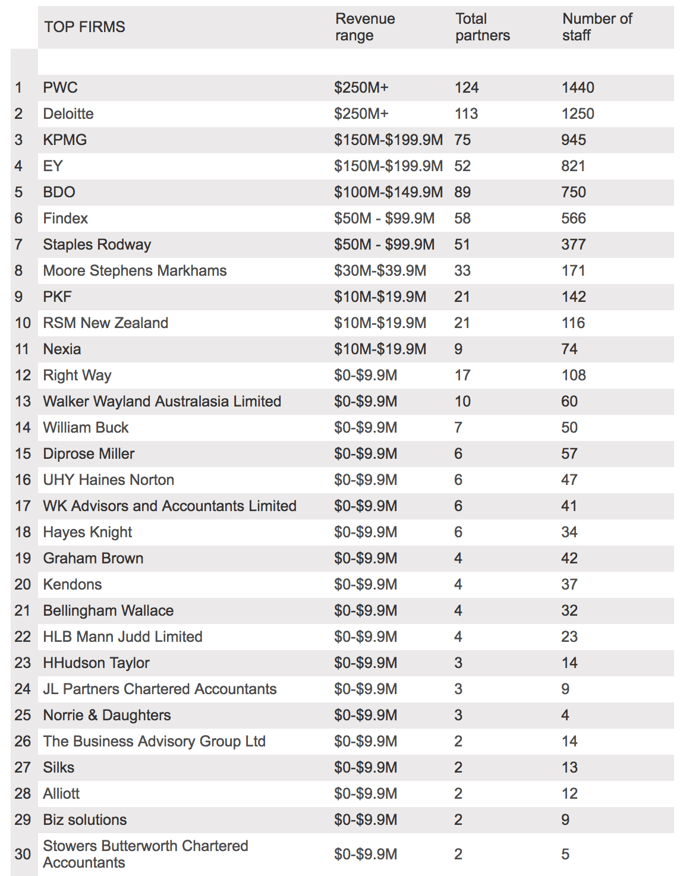 Accountants are making use of digital tools to deliver real-time insights, performance benchmarking and advice. They are also specialising, developing areas of deep expertise or industry-specific knowledge. Because they work across multiple businesses, they also bring a "helicopter view" of what really works in successful businesses.
Ten or 15 years ago firms big and small all offered a traditional business advisory service (BAS), recording the transactions of the business, preparing accounts and meeting statutory obligations, says Simon O'Connor, EY managing partner and head of assurance.
Around that they would perhaps provide some tax planning or investment advice.

Now, with software such as Xero automating much of that activity, the pressure is on to provide more strategic value. A client paying $600 or more an hour is paying for more than process, O'Connor says. They are paying for experience, judgement and guidance.

"It's allowing them to work with their clients around digital services, or how they improve customer service, maybe some analysis around their stock."

While clients are often very savvy, they may never have bought or sold a business or had to deal with the cross-generational transfer of a business, O'Connor says. Such situations demand professional advice.
Sharn Rayner, CEO of national accounting network Rightway, calls compliance the "hygiene factor" – it needs to be done and done correctly. Rightway automates this as much as possible, creating business dashboards in the process.
This frees time to deliver high-value accounting services, such as cash flow forecasting and budgeting, as well as real-time advice. On top of that, Rightway provides services that go well beyond finance into coaching and mentoring, delivered either directly or through partners based around an analysis of the business owners' aspirations.
This could be advice on HR, processes and efficiency or it might be on sales and how to build a pipeline, distribution channels or digital marketing, Rayner says.

"We are in a position of trust which is why we do a lot of work around ethics to make sure we are doing the right thing," she adds.

"We have a real focus with our specialist accountants where we make sure every single activity is reviewed. We can't just rely on one person to get it right."
Tristan Dean, director of 40-strong Auckland firm Hayes Knight, says automation arrived at the same time reporting standards became simpler.
There is still a good business in compliance and that is still part of the accountant's role, Dean says. It has become less time intensive and there's downwards price pressure on such compliance work.
"Because the client's accounting system is doing more, the client's perception is that we are doing less," Dean says. "Sometimes there's some truth in that, sometimes there's not. It depends on the quality of the information the client's putting together."
The writing was, however, on the wall. Clients wanted their accountants to tell them what their financial statements meant and to turn that into practical advice to drive business performance.
"We recognized that a long time ago and we were in that space before it became a necessity," Dean says.
The first big change was to staffing and skills.
The people in today's BAS have to have a much more diverse range of skills, EY's O'Connor says. Traditionally they were probably a tax partner but now they might equally have a background in assurance or some other business area and they are providing a much broader range of advice.
Another thing chartered accountants bring to the table is they are working across multiple businesses, perhaps up to 30.
"They have all their direct experience across those businesses plus all the large firms have programmes where they are gathering comparative data across clients to be able to benchmark and make introductions through the network," O'Connor says.
Specialist areas such as negotiating deals, mergers and acquisitions, shareholder disputes, due diligence, raising finance through debt or equity are areas where accountants can really add value due to their exposure to a broad range of businesses and transactions, Dean says.
"We needed to hire people who had personality, who could handle conversations with clients and who we could train to add value to our clients.
"Facilitating deals is a big area of growth for us and it is a lot more fun to do than bashing out the set of accounts."