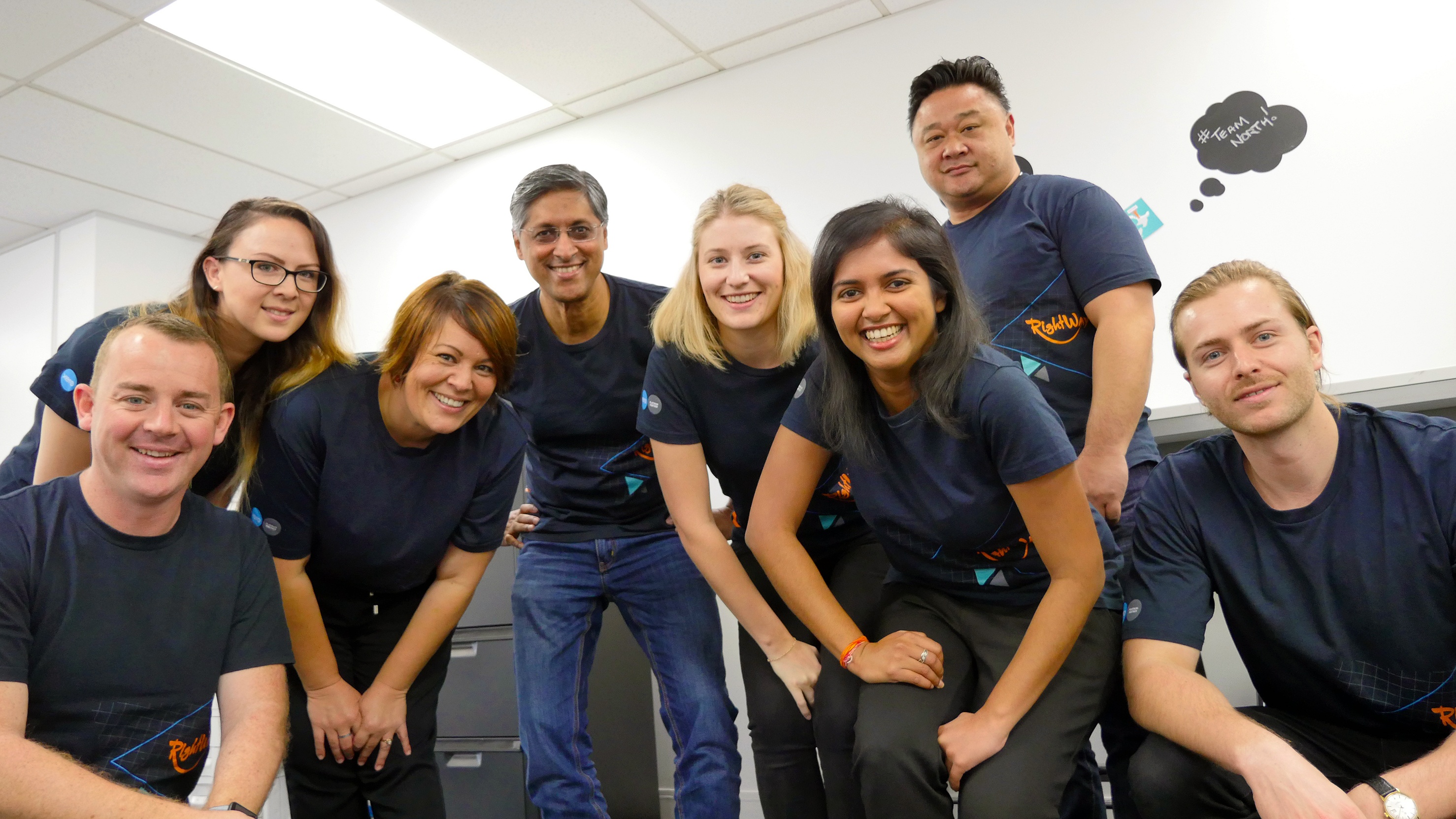 Friday marks a pretty special date for the team here at RightWay. Not only do we have more than 100 people helping us change the world one small business at a time, its also our 5th Birthday!
While we're past the initial teething stages, like all 5-year-olds we're still developing everyday, with our clients and team at the forefront of our mind.
One of the faces parenting us towards success is our CEO Greg Sheehan, who , along with a few others, conceptualised RightWay and helped guide it into the success it is today.
So let's see how one of the founding fathers feels about how the 5-year-old we are today is getting on.
Physical Development
While every child develops at their own pace, there are certain milestones they're expected to achieve by their fifth birthday. How do you think RightWay are progressing in terms of physical development?
When RightWay was born it was so much like a newborn. It kept us up at night and we worried if it was going to be OK.
As parents, we had no idea what to do. There wasn't a manual on how to raise this thing so we just had to take a 'trial and error' approach and learn as we went.
I guess much like new parents there was a lot we probably got wrong, but fortunately our baby survived and started to prosper.
Watching it grow was exciting. It started to get bigger than us which is not typical of a five year old. Not unless you're a really short person.
We have doubled in size every year. We literally went from 5 people to 10 people after 12 months, then 20, then 40, then 80 etc. At the time of writing we have 110 members of the crew. Our customer numbers and revenues have done the same thing.
Behaviour
Your 5-year-old is comfortable with a little more independence, it's all about testing boundaries and maybe some demands to do things on their own. Some you should encourage and don't worry if it's not perfect, and some you need to stand firm on. How do you think this applies to RightWays behaviour as a company now?
When the company was smaller and younger we didn't have a lot of structure. We did what we wanted. We had no process, no rules. If we screwed up then nobody really noticed. Operating at scale brings way more resources, but it also brings a need to set up processes that allow us to operate as a bigger business.
A larger business just becomes more complex as it grows. In many ways, that's inevitable, but we try and fight bureaucracy wherever possible.
When you are doubling in size every year by default everything changes 100% right? That means we are living in an environment of constant change and our team needs to build behaviour patterns and ways of thinking that allow each of us to cope with that change and to build a great teamwork environment.
When we screw up (and we do), then we need to have an attitude of fixing things fast and moving on quickly.
As CEO, I love to be straight up and we have built that into our company values.
I want everyone working to be at their best with a focus on how we can better serve our customers. People spend a tonne of their lives "at work" and I want our RightWay team to love what they do directly helping to "change the world one small business at a time".
It's important an organisation has the right type of behaviours. We know we are generally on the right behavioural track if we are living out our values, and our values really are pretty cool;
1. Be straight up!
2. Lead on the field
3. High fives galore
4. Do epic shit
5. And my personal favourite – It's always team first!
Although we still have the attention span of a 2 year old, we are marginally more grown up since the launch of the company.
Language
5-year-olds are able to express themselves more clearly; they're able to give explanations, retell stories, and put together sentences to make themselves understood. How has the RightWay brand changed and developed over the past 5 years?
If accounting is the language of business then I think we can probably speak that dialect quite well. But business has so many dialects. The thing I have needed to learn the most is that despite some awesome roles in my past that taught me so much, nothing has ever tested me or our leadership more than handling fast growth.
In fact, there are probably very few people who have lead cycles of really fast growth in a business – certainly not at the scale we are experiencing. The dynamics of fast growth and operating in a high revs environment test you in every way possible. It's been the toughest five years and the best five years all rolled into one. I wouldn't have it any other way.
Health
It's important that your 5-year-old has regular check ups. The health of a company is important. How has RightWay maintained good company 'health' over the past 5 years?
Culture, culture, culture. As they say, culture eats strategy. So in other words, you can have the best strategy with the best products but if your culture sucks you won't get far.
We haven't always got that right. It's hard to keep error-free when you're moving along at such a fast clip. But having a team who believe in the vision, who live the values, and who love what they do goes a long way to good company health.
It's also been important that those carrying the stress have avenues to release it (running, gym etc.) to stay in shape. I am all for a fit and active team, albeit I am not always great at personally prioritising it (note to self!).
As RightWay grows, looking after its own financial health (its balance sheet strength etc.) is also important. The accountants in the team will understand that. A weak balance sheet is a weak balance sheet, so we always need to make sure we keep that strong.
A larger business also creates more risks. There are more people employed, more contracts with suppliers and all that good stuff, so managing the risk is also part of looking after ourselves as we get older.
Nutrition
It's good to expand horizons and trying new things. Variety is important, so make the most of what you can put in front of your five-year-old. How has RightWay offered 'variety' to both staff and clients?
Well, one of the first things we know is that to build a truly disruptive, global business that tackles the small business market head on and flips the profession on its back takes talent. We hire people from diverse backgrounds (they're not all accountants). They may be marketers, HR folks, trainers, recruiters – anyone!
People with different backgrounds bring different flavours into the mix. That all adds up to a real melting pot of ideas and innovation that creates a buzz and a sense of purpose.
As we grow the demand for talent to take us to the next level is probably the toughest part of growth. Sometimes people operate at a certain level and can't quite step up to the next rank and very occasionally you have to make the hard call and replace them with someone who can.
It is also important that the staff and clients are encouraged to try new things to improve their lifestyle and push their own boundaries. I recently did a bungy jump in Queenstown with my children. I like to think it was an experience they can take into the rest of their lives knowing that fear can easily be beaten, and when fear is beaten it is simply incredible as to what can be achieved.
There you have it, some wise parenting advice by one of the RightWay originals who has dealt with the late nights, growing pains and the wonderful successes achieved by our team and clients.
Here's to another 5 years of going the RightWay!