2023 has been a challenging time for many in business. The economy has been slow, feeling the effects of rising interest rates and low confidence. We should all recognise that these periods are always temporary, although that's little consolation for those really struggling to stay afloat. It's easy to get in a negative mindset during such slowdowns, but we encourage every business to try and find the opportunities to improve the business when things aren't at 100%.
Now is the time to work on different aspects of the business that can be hard to really nail down when going 100kph. These improvements are not only valuable long term, but can actually be part of the solution to get things moving again.
Conducting a review of business improvement opportunities
One of the first things to do with the benefit of extra time is to really take a magnifying glass to your business' operations. Work through each aspect of the business to determine what is broken or simply not working as well as it could. Some of these aspects include:
Strategy

Financial position

Processes and guidelines

Market reputation

Customer experience

People / staff experience

Integration of tools and technology

Marketing efforts

Risk management

Social responsibility/environmental

Board and governance functions
Now, while all of these things may get some airtime throughout the year in typical circumstances, you shouldn't feel alone if these continually get deprioritised as it's very typical. With a quieter patch and more time, it's an opportunity to really understand how each of these aspects function and really put the work in to uncover issues to be solved.
We'd suggest starting with a spreadsheet or document that allows you to capture lots of improvements and categorise them by type. This also makes it easier to keep track of progress, checking off initiatives as they're implemented.


Assessing your expenses and finding savings
Perhaps the best place to start is where the business feels it most immediately; financials. It's natural during this type of economy to want to reduce any expenses that aren't mission critical. Doing this properly can indeed save the business on outgoings, but it's important to ensure that costs associated with critical functions aren't simply cut - doing this can cause even bigger issues.
Any business that's been operating for some time is likely to have accumulated some costs that are, or at least have become, surplus to requirements. Examples of these include:
Software subscriptions - some like accounting software is a must have, although ensuring you're on the most cost effective plan is important. Other software tools may have been subscribed to when they were needed, but sit un-utilised. Those can be cut out - if you've got plenty then you'll really notice it.

Premises and rent - if you're in a physical office or workspace, it might be time to review whether it's giving the business the best value for money, especially if the lease term is coming to a close.

Power, phone and internet - These are a must have for virtually every business, but there's plenty of options for each of these services. You should make sure to check the plans you're on are giving the business the best deal. If not, it may be time to speak with your provider or even look around for other options.

Bank fees - Business banking typically comes with monthly fees. And while they may not be large on their own, if you use many different cards and services it can mount up. Shopping around for the best deal, or even asking your existing bank how you might cut back on fees is worth exploring.

Insurance - all businesses need to be adequately covered. But insurance comes in many different forms and policies. Your premiums may have been a good deal at one point, but it's worth checking routinely if you're still getting the right coverage and prices. A broker is a good person to talk to about this, along with some online research if you feel compelled to do a comparison yourself.
The costs your business incurs on a monthly basis will be unique to you and your needs. Determine what's a must have, nice to have, or simply not needed. Then work your way through the list and find savings where you can.


Refining your vision and strategy
Setting a business strategy is a hugely beneficial step to take as it guides so many day to day decisions. Crafting a vision alongside this is also useful, but often gets deprioritised or even written off in favour of more tangible, income creating activities.
If you're going through a quieter patch in work, it's a great time to really put your brainpower towards a business strategy. Establish your goals for the next 1, 3, 5 and 10 years and build your plan of attack around these. The strategy, contrary to a common misconception, doesn't need to be a novel. Sometimes the most powerful strategy that you will practically use is just a one pager that states the key initiatives and goals.
A vision is where you really take yourself out of the day to day business owner/operator mindset and dare to dream. What is your ideal business, what impact is it making on the world, your team and your life? Vision gets written off unfairly sometimes as a bit too 'wishy washy', but the reality is that having a clear picture of ideal can be a tremendously pragmatic tool to build the strategy, make decisions when faced with cross roads and articulate your business out to market.
If you need help building a strategy or vision, RightWay's team brings a wealth of experience in this area.
Building out content on your subject matter
A rainy day job that often gets skipped over is building out content that helps materialise your business' expertise. Content marketing is one of the more effective long term strategies for growth, but demands quite a lot of time. For that reason it's often neglected in favour of more expensive ad campaigns.
If your team has more time free to work 'on' the business, creating content is an excellent use of time.
Start by establishing who in your business (including you) is the subject matter expert on various topics that your customers care about. Then have each team member create content, even in a rough draft. The format of content could be written articles, internal training materials, video content for YouTube and even social media posts.
Not sure where to start here? Here are some ideas to kick off:
What are the most popular services or products you provide? Create content that explains these offerings in detail including the benefits, use cases, problem/solution and why your business is a better option for that service/product than others.

What are the most common questions you receive from customers? These might come through phone calls, in person or online. The answers to these questions are ideal for building out content that you can place on your website or social media.

What's your original opinion on your industry, new technologies, challenges or other matters that your customers and wider market would be interested in? In a world full of rinse-and-repeat content, a genuine perspective is only going to be more valuable as marketing content.
Experimenting with different marketing approaches
Quieter periods might mean less budget for 'testing' but conversely it might be a great time to experiment with channels or activities you've not tried before. Sometimes it can be hard to find time to try new marketing ideas when running a business, so take this opportunity to think outside the box. Have you tried:
Doing some out of home or guerilla marketing such as unexpected ways to present your brand?

Testing a new digital channel such as YouTube ads, with some DIY video?

Exploring a new market or industry through avenues they exist such as meetups, trade magazines etc?

Collaborating with established brands on a joint offering or event that promotes both brands to each others' audience?

Testing a unique landing page and advertising for a service or product aimed towards a specific industry or user type?

Running localised marketing such as flyers, billboards, bus shelters, newspapers and digital advertising geo-targeted?
Marketing is a part of your business that really benefits from testing, learning and a real mixture of elements as opposed to a single activity. Use quieter periods to get some of these tests running - it could create immediate enquiries or sales. But it will at the very least earn some awareness and engagement with your business.


Updating your website
Websites are never done. It's an evolving process of updating content, design, code, navigation and many other elements. With that said, extra time can be good for doing large updates in one go. A good example is updating the messaging/copy on your website to better align with your strategy and target market. You may have also brought in new services or products and the website doesn't currently represent that clearly.
Or, you might look to take new photos of the team, product, interacting with customers or even just local scenery to make the website feel more up to date and tailored to your location and audience. While a professional photographer is definitely the ideal way to go as they'll turn out great finished images, a stop gap if you're short on budget can even be to take well-lit images on your smartphone.


Finding ways to streamline processes
It's common for business processes to keep running 'the way they always have' if they get the job done. And it's hard to step back and really understand where business processes are simply not as efficient as they could be without the benefit of some time and breathing room. During a slower business period, take the opportunity to list out common operating practices and how they're currently done. Then identify areas that could be improved or even removed.
Once you have developed a new process, it's important to both integrate it into daily operations and document it clearly. It might not feel necessary in a small business, but documented processes build a good platform for scaling and onboarding. You might find this activity earns the business back time and maximises the income potential each day.


Strengthening your team culture
Do you manage a team? Team culture evolves naturally through the people and relationships involved, but also can be influenced by decisions you as the owner makes. While team culture isn't a 'project' and more a way of working each day, you may find opportunities to strengthen your team in quieter periods through deliberate team collaboration and social activities. A team can also be brought together when facing a challenge or problem that everyone works together to solve. Don't be afraid to bring the group into marketing workshops, customer experience brainstorms or anything else that might benefit from more perspectives.
Also consider the daily or weekly rituals that foster a great culture - morning stand-ups, sharing challenges and wins, 1-1 check ins and professional development meetings. It may not seem like much at first, but more interactions between the team can have a significant impact on trust, retention and business efficiency as important information has less chance of slipping through the cracks.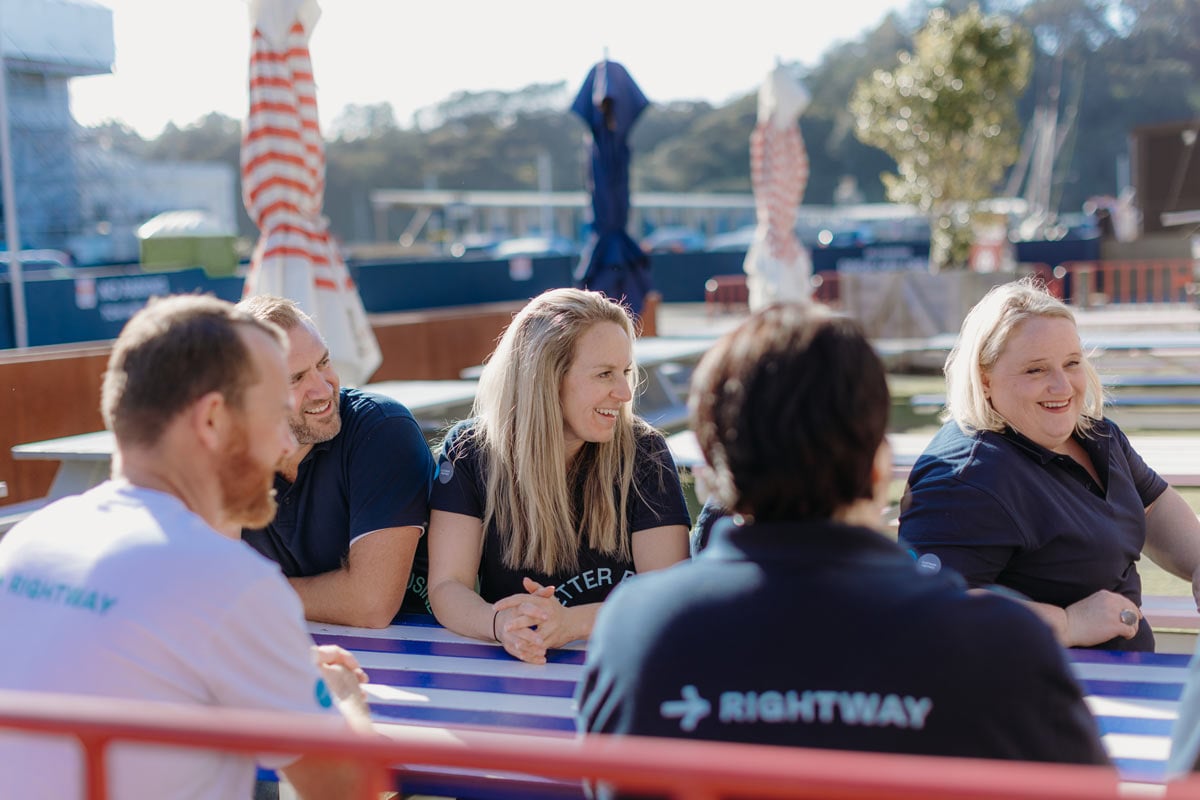 Reinforcing great customer relationships
Things not quite as busy as they usually are? There's no better time to pick up the phone or arrange to meet your long-standing customers who keep the business going. Retaining great customers is far less work than acquiring new ones (and cheaper), so you should be doing everything you can to ensure they continue to engage. It doesn't have to be anything major; simply checking in to make sure they are happy and don't need anything can be enough to have a customer feel like they're important.
And if you're a B2B operation, remember that your customers are also facing similar challenges given the current economic climate. How can you alleviate stress and add value to their business? Finding opportunities to save them money can go a long way - and likely remembered long after the world gets moving at 100% again.

Need help making your next business improvements?
RightWay helps Kiwi businesses of all sizes and industries with business improvement, strategy, accounting, bookkeeping and more. Our Business Partners work with you to gain clarity on where your business is at and how to make the right next steps. Get in touch with us today via our contact form or phone 0800 555 024.


Disclaimer: The information provided in this article is intended for general informational purposes only and may not apply to the specific details of your business. For personalised and tailored advice, we recommend reaching out to our professional team. While we strive to provide accurate and up-to-date content on our website, RightWay assumes no responsibility for any business loss or damage that may arise from relying on the information provided.