Scaling a business the right way
Many highly ambitious business owners and entrepreneurs have dreams of taking their businesses to the big time.
But scaling a business is so much more than adding headcount or indeed customers.
In reality, scaling needs to be part of a careful business strategy in order to retain the magic of the small business and unlock the benefits of a large business.
In this guide we'll touch on some key elements you should keep in mind when scaling a business, regardless of where you're at on the journey.

What does scaling a business actually mean?
Put simply, scaling a business is the expansion of operations through a number of metrics, most commonly:
Customer size

Team size
Number of offices/branches/franchises
Regions
Countries
Services/Products
As you might expect, scaling means different things to each business. And that's not necessarily a bad thing. Each business also has its own unique view of how much to scale. Any successful business should have some type of growth aspiration, even if this is simply to generate more revenue from a manageable number of customers.


Creating a vision for your business
When a business proceeds without a clear end goal, there are far more opportunities to get distracted by the wrong thing. A vision isn't just the business plan, but it's a matter of outlining the business in its ideal state.
To properly work out the best way to scale (and indeed, whether to scale), spend the time to get to the core of why you're in business, and the impact you want to make. This is where business owners are encouraged to do a bit of dreaming:
What is your business known for?
How much money is the business making?
How much are you paying staff?
Which countries are you operating in?
How do you want to impact people's lives?
What type of people does your business attract as employees?
What are you the best in the industry at?
Of course, it may be that none of the above applies to you. We strongly encourage you to build a vision that's both meaningful to you and at least supports the achievement of your personal goals. While 'cashing out' might not exactly be fit for a business' vision, there are more palatable ways of capturing and communicating financial success that won't turn your people off.
The vision of the business needs to be simple, effective, and resonate with everyone who's coming along for the ride from office administrator to CEO. But the vision should also be something that can be practically achieved and in the case of scaling the business, be a sentiment that infers growth or evolution.
Here are just some examples of a vision statement:
To be the brand of choice for sustainable footwear.
To bring high-speed internet access to every Kiwi.
Empower everyone to have control over their finances.
To be the best meal in every town we're open in.
If you've got a high-level vision to start with, your scaling plans will be made much easier. Take the time now and reap the benefits as you build the plan.
Why growth, for growth's sake, is a trap to avoid
When growth is the goal alone, a business can start focusing on head count, branches, and other metrics which in some cases can belie the success of the business. In fact, in many situations, these become nothing more than vanity metrics, as the complexities of a larger business eat into margins and bottom line.
If you're wondering why you don't think about growth, there's a chance that growth in size is simply not important to you. And this is 100% okay. The one-person trade business is just as valid as a fast-growing tech startup. Do not proceed with scaling strategy if your financial objectives and lifestyle preference don't marry up with the intensity of a growth model.
There are plenty of ways to maximise your income that don't require more customers, locations, or staff.


Establishing goals with time frames
Goal setting is an absolute must. But to scale effectively these goals need to be broken out into key milestones over an extended period. Having one marker of success far into the future will fail to engage the team - and will typically be kept out of mind by a busy owner.
There are particular business outcomes that lend themselves towards certain periods of time, for example:
12-month goals
The business is running all accounts payable and receivable off a central platform.
The business has implemented a time tracking platform that is successfully delivering daily, weekly and monthly insights around productivity.
The business has engaged an accounting partner.
The business has established a pricing model that covers costs and a profit margin of x%.
2-year goals
50% of our customers are worth $200 or more per month.
We have successfully implemented a general manager.
Revenue has grown by 20% YoY.
Our customer feedback has our satisfaction rate at 90% or above.
5-year goals
85% of our customers are worth $800 or more per month.
The business owner has offloaded all delivery work and is 100% involved in business strategy and relationships only.
CEO, CFO, and CTO are all embedded within the business.
Annual revenue for year 5 is $2.4m.
10-year goals
Annual Revenue $12m.
Partial sale of the business to an investor with new technology capabilities.
90% of customers are worth $1,000 or more per month.
50% of customers are enterprises worth $5,000 or more per month.
As you can see, building out milestones and specific goals will start to create some of your business plans and initiatives for you. When the goalposts are clear, it's much easier to play a good game.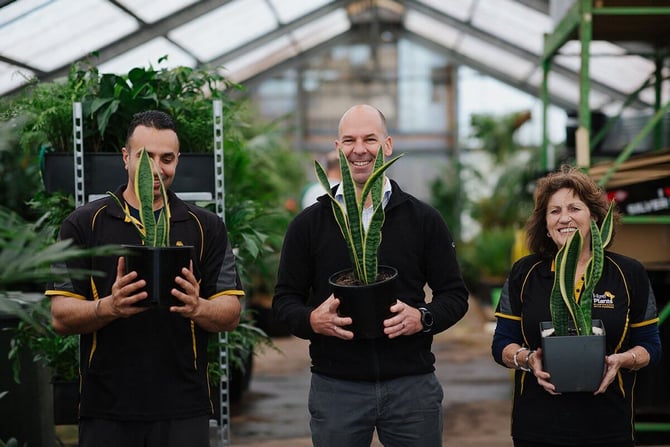 What's your BHAG (or Big Hairy Audacious Goal)
A term coined by Jim Collins and Jerry Porras in the book Built To Last, the big hairy audacious goal is a lofty but practically achievable target for an organisation to point its strategy towards. Often the BHAG will be aligned with longer-term objectives (at least over a year but typically longer still), as it will represent a significant transformation from where the business stands today and what it will resemble if the BHAG is achieved.
Consider a business like Subway and their founder Fred DeLuca's BHAG of $1 of revenue a week per person in the USA. What made DeLuca's goal work is it was directly tied to a wider business objective, in this case, broadening out the customer demographic beyond an over-represented college customer base.
The key to setting a BHAG relies on a few important criteria:
It's measurable.
Everyone in the business understands it.
Everyone can have a hand in affecting it.
If you have a 'north star' statement in the form of a BHAG, your business growth strategy can wrap around this, safely anchored to an outcome that will be positive for the business.


Building the rocket for the long haul
When a business enters a period of considerable growth, any deficiencies are magnified 100x. A big part of successful scaling is ensuring the business has the fundamentals down to absorb the stressors of growth. Too often we see businesses that have all the ambition but lack the building blocks to sustain their desired scale.
So what's required for a business to be ready to scale? Here are a few common elements that will set you in good stead:
Building strong company culture and values.
Business operating expenses are kept lean and appropriate.
There is a trusting, capable leadership group in place.
The business has support in areas such as accounting.
There's a clear view of monthly income, accounting for seasonality, high months, and low months. The business can operate on a low month and still generate a degree of profit.
Any considerable debts are paid off or drastically reduced.
The business has the cash flow to remain flexible and reactive to unforeseen expenses.
The product/service roadmap offers multiple avenues for income.
The business has conducted careful market research and forecasting to reduce exposure to big industry paradigm shifts (e.g. shifting technologies rendering the current services or products redundant).
If you are running a highly effective business now, the objective should be to maintain this at every stage of growth. Staggering your growth carefully gives you a better chance of achieving this.


Taking the team with you on the journey
Time and time again business owners make the mistake of assuming that everyone is as excited and engaged with the growth plan as they are. The reality? A salaried employee is much more likely to be concerned with the security of their job, changes to their day-to-day duties, and losing the existing culture. These are all very important considerations for a business owner to address.
If employees feel like leadership is pulling ahead without considering the team, engagement drops, moral decreases and attrition can skyrocket.
Scaling and growth can be harnessed in a much more positive way for employees; most importantly in how it will enable their individual career growth and earnings potential. This is particularly important in a small business where typically every team member does more than just their job description. Businesses need to reward their effective, long-term staff by at least giving them the opportunity to take on key roles in the growth of the business. Do this right, and you may be building your future executive team right now. Ignore this, and you can expect to 'start again' with new teams at least once or twice.
A big part of taking a team on a growth journey is to provide constant communication and transparency. This should be balanced with a stable Business As Usual (BAU) cadence, where your team can focus on their job today and not be concerned about tomorrow to the point of distraction.
As you work through scaling the business, check in with the team via:
Monthly team meetings.
Email comms on smaller, less important updates.
Away days (i.e. go offsite and encourage group involvement around business challenges).
Direct 1-1 meetings with staff to answer any questions they may have or simply listen to feedback.
People are and will probably always remain the most difficult part of scaling. With the right care and preparation, you can utilise your people and their skills to help rather than hinder a positive business scaling journey.


Remaining nimble and flexible
Scaling the business to new locations, more customers and bigger teams isn't straightforward. One thing you can almost be sure of is that there'll be challenges that you haven't planned for.
You and your leadership team need to approach growth with a clear plan, whilst still keeping an open mind as to the route to key milestones. Consider expansion into a new region (for example a Wellington business opening a location in Auckland). The plan may have intended for 6 people in a central location, but the available premises and candidate skill shortages may determine that in fact your Auckland expansion is based in a shared workspace with a skeleton team for a period of time. Business owners have to face these types of decisions all the time - having an attitude of rolling with the punches will help enable progress towards your milestones, even if it's not exactly 'to the script'.


Ensuring growth is enabled through financial stability
One of the biggest missteps in scaling is taking the plunge before the business can actually support it. While this might not be a major issue if growth looks like new customers and consequently staff to support these, it's certainly a risk in the case of a business looking to expand into new regions.
Setting up in a new city or country is a big undertaking, and it's certainly not cheap. Furthermore, the business should not expect a new location to generate its potential revenue for at least a year or so.
But it's not just regional growth that can leave the business exposed; new business units or innovations that demand investment in people or tools can soak up precious capital if not accompanied by new customers. Businesses will sometimes need to take an educated guess on new hires but should avoid doing this at scale.
Instead, build in thresholds for expansion based upon the business' finances. Involve your financial controller, accountant, or business adviser to establish what these financial positions look like and to help determine when they have been achieved. Attaching growth to stable financials may help to remove the risk to the business's survival, helping buffer against teething issues or failed strategic moves.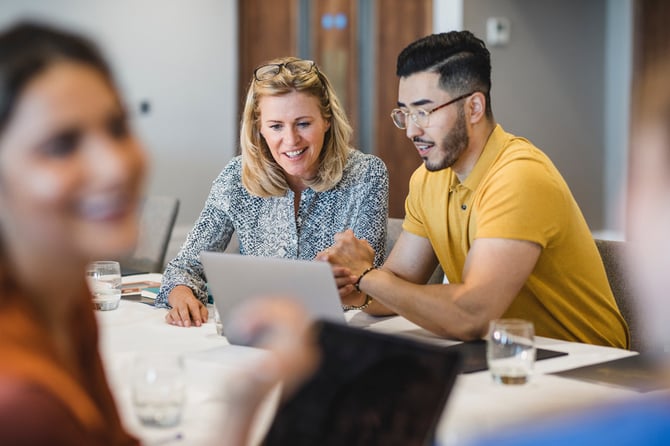 What to remember about using outside investment for growth
Finding investment for your business can be very exciting; you'll suddenly have an injection of capital to bring some of those growth milestones ahead quickly. We're not opposed to investment in businesses, provided they're done with all the facts clear and the long-term objectives considered.
As a business owner, you'll want to consider your personal goals and how new shareholders may impact your ability to control how the business supports these. If you've got a very clear direction around where you want to take the company, does your prospective investor have a similar view? Some investors will be very hands-off; in these scenarios they see the potential in both the founder and the business itself to provide a return, simply offering up the money. Other investors may be involved at a high level every so often, and largely to assess the performance of the business from a financial standpoint - they rarely get involved with the actual running of the business. And the third category of investor will essentially become a business partner, looking to influence direction to ensure they get the most from their investment.
None of these are, in and of themselves, bad choices for a business to engage with. But it's crucial that the details of the investment and what it means are both understood and captured legally.
If you have a vision and no desire for a business partnership, then consider carefully who you choose to get investment from. And more so, ask whether or not the growth must come now from investment, or wait longer and come from revenue.


Need help scaling your business properly? Let's talk
RightWay has been guiding businesses with their growth for more than ten years. We know that to truly help a business succeed, wrap-around support is needed, from support with your financials to your people, to the business plan. Our Business Advisors (who we call Business Partners because they partner with you to optimise your business for success) can apply proven methodologies with extensive real work experience to help you develop a sound strategy to scale your business effectively.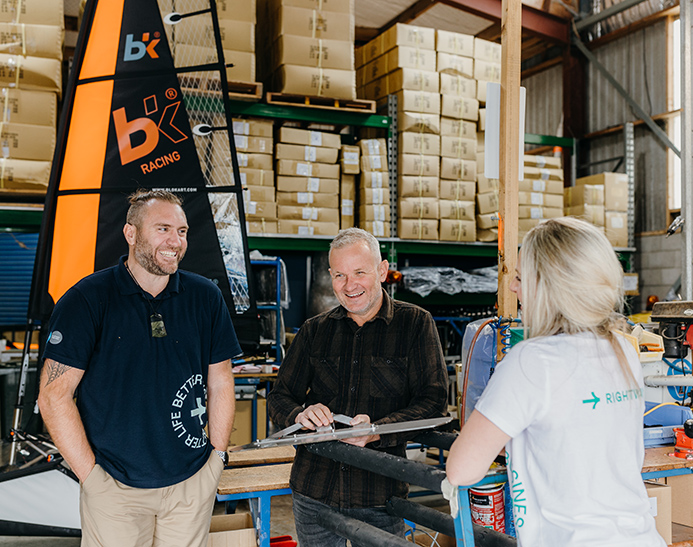 Ready to build a better business?
Take the first step, we're right here and ready to support you.